Today, manufacturers must focus on meeting high-quality standards and implementing lean manufacturing flow in addition to reducing costs and focusing on process efficiency. One dependable factor you can rely on in the supply chain process is specialty packaging. The most efficient packaging solutions prevent product from damage and contamination while avoiding excess waste. Having a reliable packaging solution ensures uniform quality across repeated applications, saving you valuable time and money.
Save money, reduce waste, and improve consistency with down packing and point-of-use solutions
Wasted product means wasted money. Epoxies, adhesives, lubricants, coatings, and other specialty chemicals can be difficult to manage during the dispensing process and can lead to increased waste. Down packing is often looked to as a solution which allows for bulk materials to be dispersed into smaller, more manageable containers. As a result, singular point-of-use cartridges are created - pre-measured for one application which improves accuracy and consistency and minimizes product waste.
Supply chain efficiency also depends on the skill set and attentiveness of your labor force during the production process. If workers do not follow the prescribed procedures during application, measurements may vary, and quality will suffer. If measurement isn't their greatest skill set, they will spend more time completing applications and slow down the supply chain. Utilizing down packing and point-of-use solutions ensure your workers (and supply chain) are prepped for success.
Achieve higher quality and production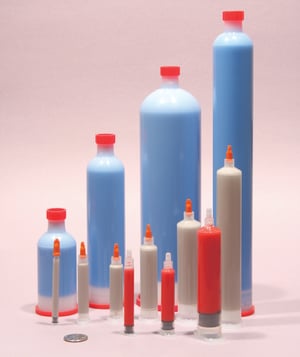 Injection and barrier kits are ready-to-use cartridges that store, mix, and apply two-component polymeric systems. These kits ensure accurate proportioning since the two components are pre-measured and remain isolated in different compartments within the cartridge until mixing prior to use. Neither kit is constrained by preset mix ratios of dual cartridge systems.
Barrier kits are recommended for mix ratios in the range of 1:1 to 10:1. Kit components are separated by a temporary foil barrier until the time of use, when the foil is pierced and displaced by a mixing head, facilitating dispersion of the two components. Injection kits are typically used for mix ratios from 10:1 to 100:1. The components are separately contained in the main cartridge and the injector rod. Upon use, material is easily transferred from injector rod to cartridge and the components are mixed until homogeneous and ready to dispense.
Precise application that does not need blending
Single cartridges are used to dispense a variety of materials that do not need blending, from low viscosity fluids to heavy pastes including silicones, latexes, polyurethanes, and epoxies. These cartridges are re-sealable and can be used with manual, battery-powered, or pneumatic dispensing tools.
Syringe packaging is used for smaller amounts of single component sealants, adhesives and industrial chemicals. Engineered for high-performance, single component syringes are designed to deliver a precise dose of silicone, polyurethane, latex or epoxy. Syringes are ideal for bench-top, assembly line and field applications.
Single dose use and uniform mixing with bipacks
Bipacks are most useful for single dose usage, including OEM, MRO, and field repair kits. Good for mixes ranging from 1:1 to 10:1 and are not constrained by preset ratios of other systems. They consist of a plastic sleeve with a clip isolating the two components. Upon clip removal, the components are hand-mixed until homogeneous. The sleeve is then cut open to dispense the material. This packaging system eliminates component weighing and facilitates uniform mixing. It aligns material amounts with application requirements, minimizing waste.
Easy-to-use high-performance packaging
Dual cartridge systems are preferred for dispensing two-part adhesive system utilizing standard mix ratios. The adhesive components remain separated until dispensed. During use, a static mixing tip attached to the cartridges enables uniform blending of components, delivering a homogeneous mixture through the dispensing tip. The system is resealable after partial use and can be used with manual, powered, or pneumatic dispensing tools.
Dual component cartridges are widely used by the aerospace, electronics, construction, and industrial industries, among many others. Make sure to use cartridges that meet industry requirements and supply high-quality storage and transport for adhesives, resins, and sealants.
Frozen product as the ultimate point-of-use solution
Pre-mixed and frozen packaging material components are weighed, pre-blended, de-gassed, and packaged to protect shelf life, eliminating the weighing and mixing of chemicals at your facility. Select specialty chemical distributors recommend that materials are shipped in dry ice and must be stored at -60°F or colder, and then thawed for use. We recommend a temperature-controlled water bath for efficient, repeatable thawing. Typical thawing time is size dependent, but most 3cc-30cc syringes thaw in fifteen minutes or less. One thawed, you have a perfectly portioned product that's ready to dispense onto your part assembly.
Single use packaging for field repair
Pudding cups are single usage package systems and are pre-kitted and ideal for OEM, MRO, and field repair applications. They facilitate operations where a greater amount of material is required than can be accommodated in the smaller E-Z Pak. In a pudding cup system, two components are supplied in separate pre-measured containers. For application, components are combined and stirred by hand with a simple spatula. Once homogeneous, the material is ready for transfer to the intended application area.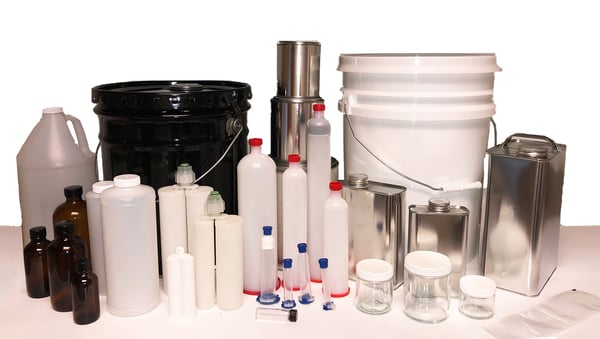 In addition to the above solutions, GracoRoberts also offers the following specialty packaging options to support your next project:
Amber glass - 2oz, 4oz, 8oz
Glass – 1oz, 2oz, 4oz, 8oz, 16 oz
Glass vial - 2 dram
Pails - 5-gallon plastic, metal open top, metal closed top
Single Cartridges - 6oz, 8oz, 12oz
Dual Cartridges - 50ml, 150ml, 200ml, 400ml
Syringes - 3cc, 5cc, 10cc, 30cc
Metal rounds – pint, quart, gallon
Flip top Boston rounds - 8 oz, 16 oz and 32 oz
Oblong cans – pint, quart, gallon
Plastic – pint, quart, gallon
Pre-saturated wipes
Pudding Cups
Tote tanks
55-gallon drums
Please contact us if you'd like to discuss packaging solutions for your next project.
If you require made-to-order custom formulation of chemical solutions, you might be interested in our Resin Formulators product line.